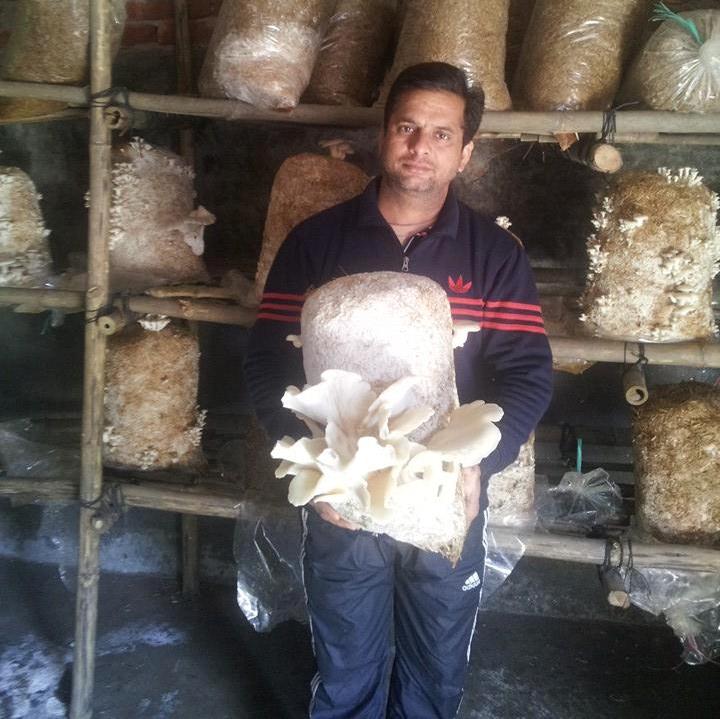 Story of a Man Achieving Sweet Taste of Success with Beekeeping
Beekeeping is a long-standing practice in India and after the independence, it is being promoted through various rural development programs. But when it comes to taking the beekeeping to the next level through commercializing the bee products, then even today also most of the people are lacking these types of skills. But there are many people who have achieved great revenue and success from it. One such person who is practicing beekeeping from last 20 years and is generating good profit from it is Narpinder Singh Dhaliwal.
It is said that we don't grow when things are easy, we grow when we face challenges, and Narpinder Singh Dhaliwal is one of those people who has achieved this success in his life by doing great hard work and facing many failures. Today Mr. Dhaliwal is the owner of Dhaliwal Honey Bee Farm having around 1000 bee boxes, which is situated in his own native place- Chuharchak Village of district Moga (Punjab).
Before starting beekeeping, Narpinder Singh Dhaliwal was almost unemployed and was working at a measly salary of 1500 and it was very difficult for him to meet his needs. His low qualification was also a downside for him. So he decided to take over his father's work and help him in beekeeping. His father was an ex-army man and he started beekeeping with 5 boxes in 1997. He was the first one who started beekeeping on a commercial level.
Mr. Narpinder did everything himself from the beginning to setup his business and also faced many difficulties in it. Due to fewer resources and less money, he also faced many failures, but he never gave up. He took 5 days training from Horticulture Department of PAU to give beekeeping business a perfect direction. He took help from friends, money from the bank, and from the joint effort of his family and some helpers he finally setup his bee farm in his village.
He started with 5 boxes and today he has around 1000 boxes, he keeps on migrating those boxes from places to places to get the good yield of honey. He has mainly western bees on his farm and that is European and Italian. He does not give any artificial or supplemental feed to bee colonies, he prefers only natural feed. Moreover, he doesn't use any type of pesticide or chemical spray for pest control, he prefers natural method for controlling or preventing the pests. Because he believes in doing everything in a natural way.
The problems that he generally faces are Varroa Mites and Hornets attack during the rainy season and to cope up it, he uses natural preventive methods. And even after following the natural method he gets good ROI (return on investment) over his investment in one year. Well, many people practice beekeeping, the thing that makes him a smart beekeeper is that he directly make contact with his customers and market his product himself. From honey processing to packaging to branding, he does everything himself with the help of 6 helpers, he is not dependent on anyone for anything. Currently, he is also getting the subsidy for his beekeeping business from the government.
In the beginning, many people were there who criticized his work and honey quality also, but then also he never got demotivated and continued with beekeeping. Other than beekeeping he also does organic farming, dairy farming, fruit farming, poultry farming and conventional farming but the produce generated from all these farming is mainly to fulfil his own family needs.
Narpinder Singh also discussed his views on how to confirm about the honey pureness and the different colour of honey samples. According to him –

"The good quality of honey is not checked with its colour or liquidity. Because honey obtained from different flowers of different plants have different properties. And the best type of honey is obtained from mustard flowers and it is very thick in consistency. Thick honey is also known as frozen honey which is mainly obtained from mustard flowers; it is a very high in demand bee product in the international market because of its health benefits. Good identity and pureness of honey can only be known by the experts present in labs or agriculture universities. So if a person is in doubt about the honey quality then they should get it confirmed from the experts or buy it from a certified person, rather than believing on someone's sayings.
Mr. Narpinder Singh himself is doing apiculture and is producing honey of multi-flower, litchi, and mustard, and is also exporting most of the mustard honey to Europe. He is also a Member of Progressive Beekeeper Association in PAU. Other than producing honey, he is also planning to launch some other bee and turmeric products like "Bee Pollen, Bee Pollen Capsule, Turmeric Capsule and Royal Jelly" in the market. And he has also taken advanced training to make Bee Pollen Capsule from PAU especially.
Bee Pollen has the important nutrients required by humans and Royal jelly has multiple health benefits- both are the most in demand product in the international market and very soon its demand will also increase in India. Currently, his main focus is on marketing Bee Pollen Capsule and Turmeric Capsule and making aware the people of its health benefits and uses.
His work has made him achieved many awards and prizes in different Kisan Melas. He also won Jatt Expo Award in Paragpur. He was also honoured by Agricultural Department of Moga in 2014 and in 2016, he was also honoured on World Honey Day.
Message by Narpinder Singh Dhaliwal
"Today farming has a lot of potentials and if a farmer is ready to diversify the field of agriculture. I diversified my farm and today I'm reaping benefits from it. I want to give this message to my farmer friends that in order to be successful, you have to diversify. Beekeeping is one practice which has been ignored by farmers for too long. One can achieve a lot of success in this field as it is very profitable. And nowadays government is also giving subsidy on 5-10 boxes to the person who want to start beekeeping. "