Leaf spots are circular to irregular with separate yellow halo, reddish brown to dark brown in color. On both leaf surfaces, spots are dark brown to black. A lot of spots are produced on leaves, stem and petioles. Because of these leaf spots, large scale defoliation in groundnut is observed.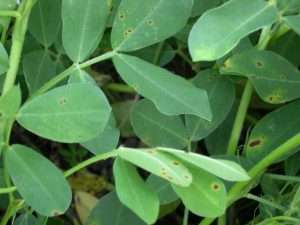 To control this disease, give 3 to 4 spray of wettable sulphur 500 gram in 200 liters of water per acre on the basis of 15 days intervals from first week of August .Alternatively, spray the irrigated crop with 50-60 gram Bavistin or Agrozim per 100 liters of water per acre, when the crop is 40 days old.
This blog is about Tikka disease in groundnut and its control,
for more information about Agriculture and Livestock, download Apni Kheti app and keep yourself updated.
For Android: http://bit.ly/2ytShma
For Iphone: https://apple.co/2EomHq6
For more information about Agriculture and Livestock, download Apni Kheti app – Android, iPhone